NEW YORK, New York --
Mendeleev
.
Sakharov
.
Markov
. Russian scientists and engineers have contributed greatly to the advancement of science and technology for centuries. But in recent years, Russia's economy has hinged more on exports of oil and gas, leaving the Kremlin to speak hopefully of "diversification" of the economy through science and high-tech firms.
However, with that diversification usually coming in the form of putting 11 of the proverbial dozen eggs in the
nanotechnology
basket (perhaps we need an electron microscope to see the logic in that), these programs have had little success to date.
To that end, we're proud to announce a new Russian innovation: Angry protests in
favor
of government policies. Indeed, with political tensions on the
rise
in many crisis-stricken Eastern European countries, pro-government protests could become a new Russian export -- voila,
diversifikatsia
!
The first of these innovative new protests occurred this past weekend, at the
ZIL limousine
factory in south-central Moscow. Over 1,000 protesters, many of them students, retired factory workers or "activists" in a pro-Kremlin shock group, gathered to show their support for Prime Minister Vladimir Putin and the bankrupt domestic auto industry that he has wisely cast his lot with.
View Larger Map
Demonstrators carried signs reading, "Moscow for Putin!" and "We are for Putin! We are for the auto industry!" according to newspaper
Kommersant
.
Admittedly, for anyone who has kept vaguely abreast of events in Russia in recent years, none of may seem very innovative. The Kremlin frequently buses tens of thousands of teen and pre-teen droids to Moscow from distant provinces to protest worthy causes like an Estonian city's removal of a
statue
from a city park;
Halloween
; and "
Putin's plan
" (don't even ask).
The new twist here, though, is that the protest was the first realization of a strategy adopted last week by ruling party United Russia and its grand wizard, presidential adviser Vladislav Surkov. The party decided to actively instigate pro-government protests as a way of quelling dissent aroused by the economic collapse, as Kommersant
reported
then.
Tying back to the ZiL protests even more bizarrely, the United Russia strategy was directly prompted by unrest in the Russian Far East fueled by a decision to dramatically increase tariffs on the Japanese cars whose import and servicing is a significant part of the Far East's economy. When local authorities refused to put down riots in Vladivostok last month, Moscow sent in its own riot police to do so, whose forceful break-up of the protests (
see video below
) both gained notoriety quickly and yet seemed fairly lame compared to the actions riot police regularly take in Moscow.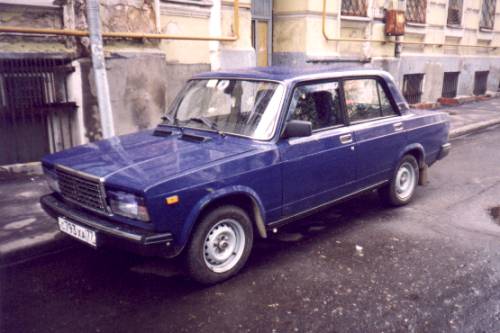 Sounds good, right? Well, not so fast. As Kommersant reported, the pro-government protesters at the ZiL factory were heard to grumble about the crappiness of Russian cars, their hearts apparently not in the pro-government rabble-rousing. Meanwhile, a marginal-but-daring opposition group, We, appeared as the deus ex mashina (
Russian pun
), manually towing a Russian-made Zhiguli car (
left
), one of the world's most notoriously bad autos. As often happens when self-proclaimed opposition activists come out of hiding, pro-Kremlin goons started a fistfight with them and police quickly appeared and fined the We members 200 rubles (~$6) for illegally using their car.
Ok, on second thought, perhaps this innovation's kinks need to be worked out before it's ready for export. But there's promise in it for you yet, Latvia.